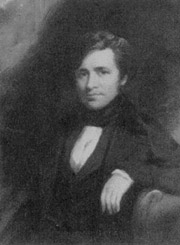 John Wilson Carmichael (1800-68)
English painter, born in Newcastle-upon-Tyne on 9 January 1800. His father was a ship's carpenter and as a youth he was apprenticed to a shipbuilder. It is possible that he spent a period at sea but he had already established his painting workshop at the age of 23, when he shared premises with the landscape painter Thomas Richardson Senior in Blackett Street, Newcastle. It has been suggested that Richardson may have been his teacher.Carmichael did not remain long in Newcastle but chose to travel throughout Italy. By 1847 he had returned to Britain and set up his studio in London. He was very prolific and a regular exhibitor of marine works at both the Royal Academy (1835–59) and the British Institution (1846–62). He returned to sea to participate officially in the Baltic theatre of the Crimean War in both 1854 and 1855 and much of his work there was published as engravings in the Illustrated London News. The National Maritime Museum, London, has his very large canvas of the 1855 bombardment of the Russian fortress of Sveaborg (now in Finland) and a large pair of pictures of HM Ships Erebus and Terror in the Antarctic and New Zealand during Captain James Clarke Ross's Southern Ocean expedition of 1839–43. He contributed in image and prose to volumes on marine art but gave up painting and retired to Scarborough, where he died, after the early death of his son.
Carmichael lived in a time of exciting and tremendous social and industrial development as Britain grew to become the greatest industrial power of the 19th century, and the book reflects that development and life as much as his achievements as an artist.The life of Newcastle then evolved round the river Tyne and its quayside; London's boundaries reached from the middle of Regents Park in the north to the river Thames in the south, and her suburbs were orchards, hamlets and open countryside; the railways were beginning to cover the country; ships were moving from sail to steam; there was movement and development everywhere.Before the camera and radio, it was the artists who brought news to the people. Carmichael drew the building of the first railway line across Britain from Newcastle to Carlisle; in 1838 he painted the details of the 'Grace Darling rescue' from the wrecked steamship Forfarshire; he accompanied Queen Victoria on her tour of Scotland in 1842; and during the war against Russia he spent time aboard a British frigate in the Baltic as War Artist for the newly established Illustrated London News. (Extract from:A Book About JOHN WILSON CARMICHAEL 1799-1868 by Diana Villar)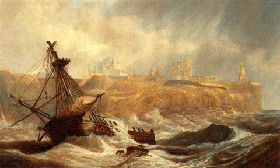 Wreck of the Betsy Cains,Private collection. Dean Gallery, Newcastle upon Tyne.
(Mouth of the Tyne, looking north towards the Priory and Castle on the headland).